Leaky Kitchen Plumbing Can Cause Mold in Your Hollywood House
7/27/2018 (Permalink)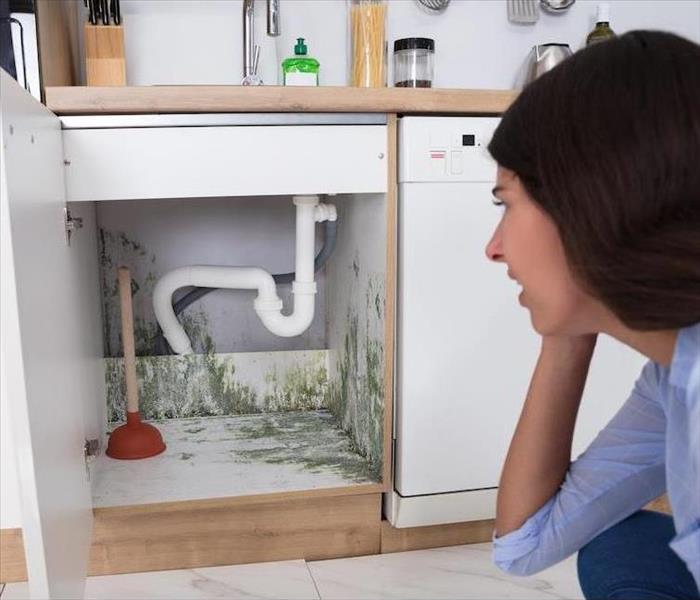 Finding mold under your sink gives you the clear indication that there was a leak. Contact SERVPRO to get a handle on the situation.
Our SERVPRO Technicians Investigate the Infestation to Locate the Cause and Then Remediate the Damage
Sometimes a leak in your home can go unnoticed for quite some time, and you might not realize it is occurring until it causes a further problem in your home, such as mold damage. When the plumbing under your sink is leaking, it is even easier to miss that it is happening. Most often, that water does not leak out onto your kitchen floor where you can visibly see it. However, the entire time that the leak is happening, the base of the cupboard can absorb the water. Slowly, but steadily, it can damage your home.

Eventually, the leak can cause an environment that is consistently moist, which is a perfect setting for the development of mold damage in your Hollywood home. It is essential for you to call for help as soon as you begin to detect mold damage. One of the first signs of mold damage is usually a very particular and musty scent.

In some cases, if you look for signs of mold damage while detecting this odor, you may not find any that you can see. However, if the odor is strong enough to catch regularly, it is enough of a reason to reach out to a local restoration company, like SERVPRO.

After you phone us, SERVPRO can send a team of technicians to arrive at your home as soon as possible. Upon investigating, we can remove any materials under your sink that the mold has compromised, such as spare cleaning sponges and paper towels.

Meanwhile, other SERVPRO technicians can section off your kitchen, taping over any vents and sealing any doorways with plastic sheeting. When dealing with mold damage, it is essential for us not to allow any spores to spread from the room. To make sure that we thoroughly rid your home of the mold damage, we must make sure it stays in one place.

Our technicians can remove the bottom section of your cupboard that the mold colony is attached to. Because it is made out of plywood, which is a porous material, it is easier to remove it than trying to remediate it. Mold colonies root themselves into porous materials, making it harder to disinfect.

After we remove the plywood base, SERVPRO can thoroughly clean and disinfect the area. Additionally, we can use an antifungal agent to help ensure that mold does not regrow. Finally, we can use an air scrubber to filter our any airborne spores and tackle the foul odor that mold leaves in your home.

If you find mold damage in your kitchen, do not delay. Dial (305) 278-8484 to speak with SERVPRO of Cutler Bay. No matter the time, we always can take your call.

Click here for more information on the city of Hollywood.