Our Certified Professionals Are Ready 24/7 To Restore Your Cutler Bay Business
10/7/2019 (Permalink)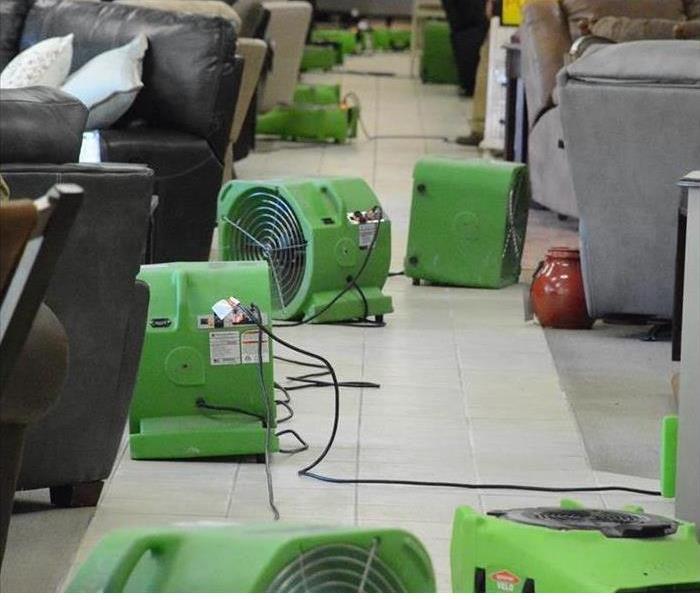 A water line that was installed under the concrete pad cracked and soaked the tiled aisle and some of the adjacent carpeting.
Commercial Water Removal in Cutler Bay After Dishwasher Failure
In the US, 14,000 people a day are expected to encounter water-related disasters at home or work. Local restaurants and bistros are just one of many industries that make regular use of water-reliant fixtures. While a commercial dishwasher is a must-have in any eatery, a larger cleaning apparatus means bigger disasters can strike.
If a commercial dishwasher develops an overnight leak that requires water removal in your Cutler Bay bistro's kitchen, the team at SERVPRO wants to help you get back to business as usual as soon as possible. These highly-trained technicians know the ins and out of cleaning water-related disasters while ensuring that your eatery is compliant with local, state, and federal codes.
If left unchecked, standing water can seep into tile grout and potentially damage the subflooring underneath. Because grout can expand when exposed to moisture for long periods, this eventually compromises the seal between the tiles and grout, which can affect the mortar holding tiles in place. Subflooring can also become warped and prone to bacterial growth if not thoroughly dried through professional means.
What SERVPRO Can Do
When SERVPRO comes to your restaurant, our IICRC-certified professionals can get to work ridding your restaurant of water immediately. The team can utilize portable extractors and wet/dry vacuums to address standing water less than two inches in height. In cases where water levels are above two inches with no solids in them, submersible pumps are sufficient. Sensors, meters, and other tools can be used to monitor moisture levels during the drying process carefully. Advanced technologies, like infrared cameras, are effective at pinpointing water-affected areas behind walls and under flooring.
After extraction, drying can proceed with low-grain refrigerant (LGR) dehumidifiers. These are highly efficient for replacing the humid air with warm, dry air in combination with centrifugal air movers. Desiccant dehumidifiers can also be used to tackle moisture in subflooring and other building materials and reduce it to safe levels. Commercial box fans and EPA-registered disinfectants can eliminate odor-causing particles and microbe growth effectively. Ultra-low volume (ULV) fogging may also be used in cases where stronger odors persist.
SERVPRO of Cutler Bay is ready to help at a moment's notice. We're Faster to Any Size Disaster so your business can reopen quickly. Call (305) 278-8484 today for 24/7 disaster cleanup that is available 365 days a year.
See more about Cutler Bay.