Water Damage? SERVPRO Tips For Detecting Water Damage in Cutler Bay
7/30/2021 (Permalink)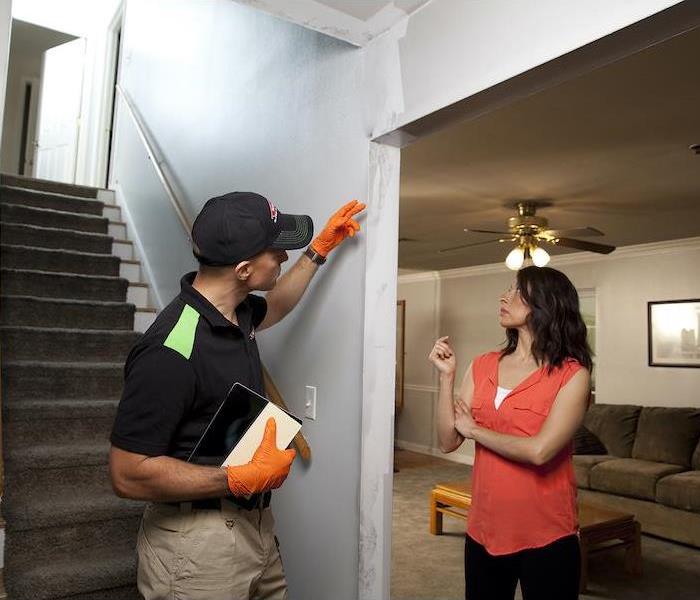 SERVPRO technicians know what to look for when inspecting for hidden water damage in your home. Call us today, we will come take a look for you.
SERVPRO Tips to Handle Water Damage
One little-known fact about water damage is that it often goes unnoticed. It is especially overlooked if the home is older, repainted, or might have an underground or internal leak. The problem is that water damage wrecks a house, and if there is enough water, mold and other microbial can take over a home, causing thousands of dollars worth of damages and can cause health effects.
Water damage in Cutler Bay is a common problem. Sometimes in older homes, you have to discover subtle signs of water damage to ensure that you're saving yourself as much headache as possible. There are several big signs to look for, including just using your eyes and other senses. SERVPRO knows that it can be challenging to spot these problems all the time, so we always walk through a house thoroughly to diagnose problem areas.
Here are a few of the easiest ways to spot water damage in your home:
Look for Stains on the Ceiling or Wall
This is often the most straightforward, most tell-tale sign of a severe leak. When you start seeing stains on your ceilings or walls, call our professionals to mitigate your costs. We also repaired the source of the damage.
Buckled Floors Almost Always Lead to Leaks
If your floors are buckling, you probably have a severe problem. Most of the time, this type of water damage is caused by slow water leaks through shower lines, water lines under the house, or even water main damage seeping up through the foundation.
Look for Cracks in the Foundation or Other Crumbling Areas
If you see crumbling wood, cracked foundations, or cracks in your walls or ceiling, this could indicate water infiltration.
If it is a Bad Leak, You Can Often Hear It
If you can sense a leak, trust your gut. Use your ears to find these kinds of leaks by turning off all electronics during a rainstorm. Usually, leaks are very prominent, distinct, and easy to locate.
Even after you've found water damage, the most challenging part is fixing the problem. That's why you should always contact our service professionals at SERVPRO of Cutler Bay at (305) 278-8484. We get there fast, and we get the job done right the first time!